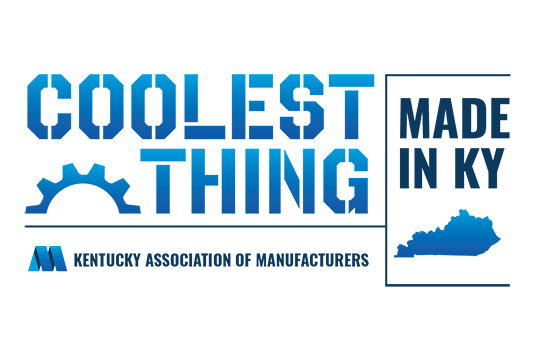 STOBER's synchronous servo geared motors have been nominated for the 2023 Coolest Thing Made in Kentucky Tournament presented by Kentucky Farm Bureau Insurance and Kentucky Association of Manufacturers. The tournament is an online voting, bracket-style tournament to let Kentuckians pick the 2023 Coolest Thing Made in Kentucky from among the thousands of world-class products manufactured in our state.
The first round of voting began Tuesday, March 21, and runs through Sunday, March 26.  The 16 products receiving the most votes in the Fan Favorites Round will advance to the head-to-head tournament.
Often used in the packaging & beverage industries to fill and carton products or in the aerospace industry on crane conveyors, geared motors can improve machine design while saving money by requiring little to no maintenance. They're an extremely flexible solution that can be provided in a very short lead time (sizes EZ4 through EZ7 ship in just five days!).
STOBER's synchronous servo geared motors are:
• Compact – Using a geared motor allows for up to 45 percent reduction in size vs. a competitor gearbox and motor combination with an input adapter
• Dynamic – Removal of an input coupling allows for a significant reduction in inertia
• Cooler – Removal of a seal at the input means less friction and less heat
• Adaptable – A wide range of gearbox types can provide a solution for a variety of applications
Other examples of how STOBER synchronous servo geared motors are used include tripods in the automation industry, carbon fiber production in the automotive industry, entertainment industry animatronics, food processing machines, palletizing, automated vehicle parking, food packaging, and more.
As highly dynamic and adaptable solutions, STOBER's synchronous servo geared motors are the most compact units on the market. Available as either planetary, helical-bevel, inline, or right-angle, STOBER has the range of products needed to optimize machine design.
STOBER Drives, Inc. is a third-generation family-owned business with a global presence. The company is headquartered in Germany and the Maysville, Ky. location was established in 1991. STOBER puts things in motion integrally, responsibly, and precisely, as a team with personality and forward-looking ideas. STOBER provides products that are backed with superior service, outstanding quality, and the STOBER guarantee while supporting employees through a culture based on core values and establishing a family-first workplace.
​​​​​​​Cast your vote for STOBER (five votes per day per person) at https://coolestthingky.com/cast-your-vote/ and encourage your friends to do the same!
Learn more about STOBER's servo product solutions by clicking the link below or contact us at (888) 786-2371 or email sales@stober.com.