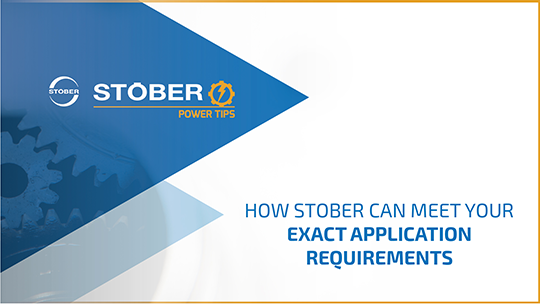 Extreme temperatures, explosive considerations, harsh cleanings, and more. Not every application fits the requirements of the standard catalog options for gearboxes and motors, but STOBER has solutions for unique environments.
In a new episode of STOBER's Power Tips, we discuss four ways STOBER can help create custom solutions for every application:
Temperature Requirements. Whether it's refrigerated production lines or extreme heat, applications don't always operate in perfect room-temperature climates. Standard gearboxes and motors are designed for operation in ambient temperatures ranging from 0 degrees to 40 degrees Celsius. For environments outside the ideal temperature range, special design modifications are required to avoid premature failure, which could cost thousands of dollars in downtime. STOBER has experience with changing seal material between FKM and NBR or changing the viscosity of the lubrication to successfully operate in extreme temperatures. From -60 degrees Celsius to 80 degrees Celsius, STOBER has experience with a broad range of custom temperature applications.
Explosion-Proof Requirements. When ignition sources are present, gearboxes and motors need protected. ATEX Certification indicates protection from mechanically generated sparks, electrostatic discharge, and high surface temperatures. Not only are STOBER gear boxes certified, but they are also able to handle rapid changes in position, preventing spills or leaks.
Harsh Environments. Stringent cleaning is always required in industries such as food, beverage, and pharmaceuticals. Cleaning procedures can include harsh chemicals, high-pressure washing, or hot water. Many gearboxes and motors will fail when water ingress occurs, or seals and bearings will fail when chemicals or pressure erode their surfaces. STOBER motors are IP67 certified and STOBER gearboxes are IP69K certified, meaning they're designed to withstand harsh washdowns and dust.
Special Flanges, Planet Carriers, or Shafts. Special applications or equipment may require a custom flange or shaft. Planetary units often need a special carrier or a custom material. STOBER features in-house engineering and manufacturing for quick turnaround on custom parts.
With experience in dozens of industries and more than ten thousand applications, STOBER knows how to meet your application requirements and confidently make custom solutions that last.