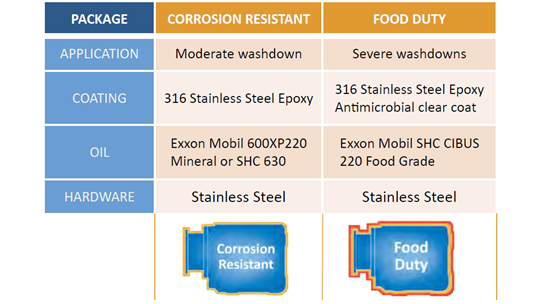 Did you know STOBER's synchronous Servo geared motors are available in food duty or corrosion resistant options? STOBER is proud to be able to meet washdown requirements of a variety of manufacturing environments and industries.
Water ingress is one of the leading causes of equipment failure in washdown environments. The ingress protection packages from STOBER feature stainless steel outputs and special lubrication and coatings. Plus, you can choose an option for ingress protection up to IP66.
STOBER's breadth of product offerings means you can get food duty or corrosion resistant options on 6 different geared motor series. Choose from inline or right angle options to meet your application needs. If you need an inline flange mount option, we can provide our PH series with washdown paint and lubrication.
STOBER's geared motors utilize the same flanges as input adapters, meaning there's a perfect fit to the gearbox every time, preventing premature failure.
Don't forget, when you choose a STOBER product, you also enjoy the benefits that come with it, including rapid response support, a 2-year warranty, and multiple third-party integration options for single and dual-cable solutions, including Rockwell DSL.
Visit stober.com/products to learn more about our offerings. Everything is a simple click away!