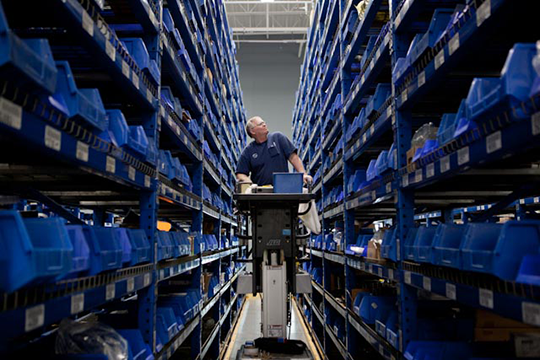 Listening to what customers need allows STOBER to identify the challenges they face and determine how to best solve them. With top-notch service and support, STOBER is always dedicated to providing the perfect solutions.
Recently, many perfect solutions have been centered around delivery, which also happens to be one of STOBER's three pillars. While many customers are experiencing challenges related to supply chain shortages that result in lengthy, costly downtimes, STOBER is still able to deliver as quickly as ever.
With more than $8 million in inventory, STOBER can build and ship gearboxes in one day and geared motors in less than one week from Maysville, Kentucky. The quick turnaround time keeps STOBER customers up and running no matter the situation.
A customer recently shared a success story about a prototype that was assigned to be designed, built, and demonstrated within a 4-week timeframe. After multiple quote requests for different options, STOBER's K402 gearboxes were able to make it happen.
"On this tight timeframe and in the current world supply chain situation, I think STOBER is the only manufacturer that I could count on to get us the high-quality units that we needed for this project," said Matt Bailie, Senior Mechanical Engineer, Applied Motion Systems.
What an excellent testimonial to STOBER's three pillars: Quality, Delivery, and Service.