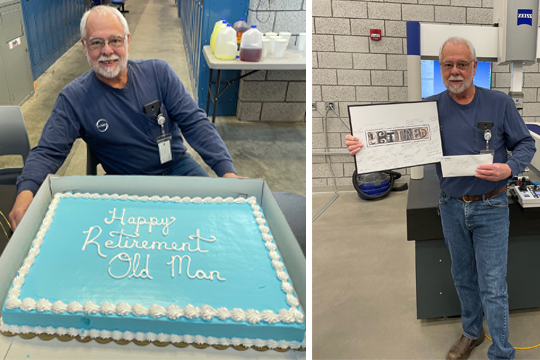 Rick Fields, quality tech, has enjoyed everything about working at STOBER for the past 8 1/2 years. When he began his job at STOBER, Rick thought maybe he'd work for about four more years, but that quickly turned into longer because of the great people he works with.
"When you can go to anyone and just talk a spell, that means a lot to people," Rick said. "It has been great and the people on the floor I worked with are wonderful people—and I'm hard to live with sometimes!"
Rick takes his job in quality very seriously and works to get the best quality results out of everyone. After his retirement, Rick plans to do anything he wants or needs to do.
Rick's last day at STOBER is March 31, and while we will miss his smiling face at STOBER, we wish him well in his retirement!
If you'd like more information about starting a rewarding career at STOBER, check out our careers page at the link below.