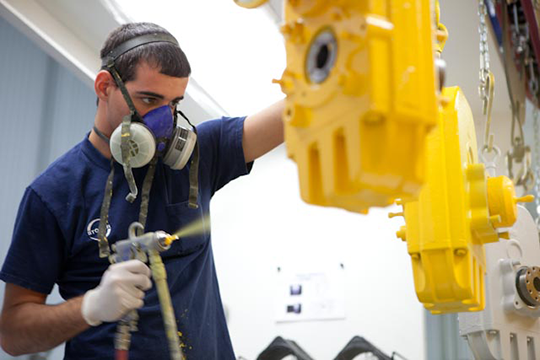 Dedication can be a synonym of commitment, and the two words often appear in each others' definitions. Both can mean getting the job done regardless of obstacles. The third of STOBER's six core values is Dedication—we give our all for mutual success.
"There are times when we have a million things happening all at once," said Kay Moss, HR Manager. "But we don't go home, we don't stick our heads in the sand, we don't give up—no, we dig in and do one thing at a time, then the next, and the next until all the things are completed. Then we go home and celebrate a great day of accomplishments!"
At STOBER, dedication comes from the heart. "Either we're dedicated to making something happen or we're not. When we are, we take extreme ownership and see it through to the end. If we aren't, we may go home and feel defeated." Moss says the choice is ours.
Employees are encouraged to pave their own path, learn from trial and error, and have the courage to speak up with new ideas. The individual and team-level dedication that STOBER exudes contributes to the company's success.
"Own it, make it happen, persevere, and you will be unstoppable," Moss said. "And others will take notice."
Dedication is what sets STOBER apart and helps the company keep its customers more than satisfied. Whether it's a one-day turnaround for a replacement gearbox, a quick service request, or custom solution, the friendly faces at STOBER are always willing to go the extra mile to make things happen.
"Unwavering commitment to a task, purpose, organization, person, project, etc.—that's dedication," Moss said. "And our team's dedication is unsurpassed."