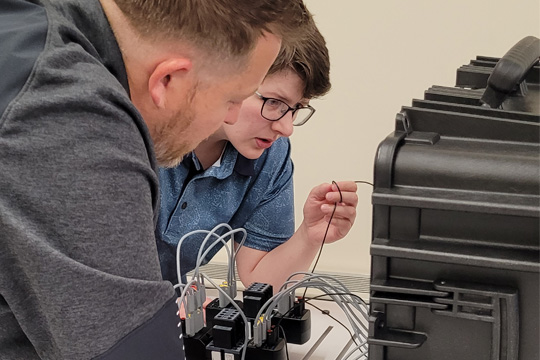 Engineers at STOBER completed a deep-dive motors and controls training this week that included hands-on learning experiences at the historic Cox Building in downtown Maysville. A third-party vendor, Festo Didactic, delivered the instruction and Babz Bistro provided exceptional meals.
The training covered the following topics:
Explain basic principles of magnetism and electromagnetism
Differentiate between a DC and an AC motor
Understand how a DC, AC and 3 phase motor work
Know the basic parts of a motor
Interpret the technical information shown in the motor plate
Identify different types of relays
Interpret electrical schematic diagrams (NEMA and IEC)
Connect a motor control circuit using relay logic
At STOBER, we believe employee development is the most important aspect of our business, and that our various development programs are a major determining factor in our current and future success. Investment of the education of our people is one of our fundamental business initiatives, even more important than product development, technology, etc. Families, communities, and schools develop people to a certain point, and once someone is employed at STOBER, we are very intentional about continuing their personal development.
Learn more about STOBER's company and career opportunities by clicking the link below.