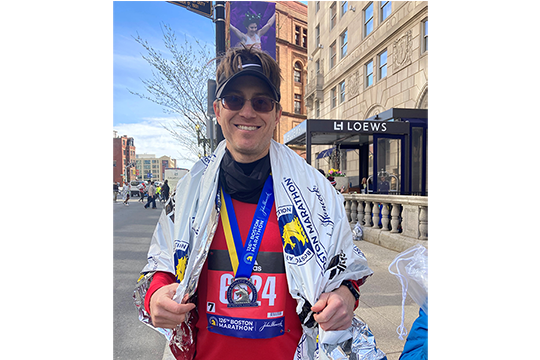 After qualifying for the 2020 Boston Marathon, John Bess finally got his chance to complete the race.
"I qualified several years ago, but did not get to run that year in Boston due to Covid so I ran the virtual race instead," Bess said. "When they decided to have the race in-person in October that year, they shrank the field due to Covid restrictions and I missed the cut. Needless to say, I was not happy."
Despite his frustration, Bess didn't give up. He qualified again in November 2021 after completing the Marshall University Marathon in 3:00:29.
"I was training really well until mid-February 2022 when I developed an Achilles injury," Bess said. He stopped running from then until the day of the Boston Marathon (April 18) to give the injury ample time to heal.
After the pause in running and undergoing treatment for a few months, Bess had an MRI 10 days prior to the race to make sure his Achilles was structurally sound so running the 26.2-mile Boston Marathon would not cause any permanent damage. The MRI results gave Bess the green light to participate in the world's oldest annual marathon.
"The race was nerve-racking and extremely stressful, not knowing if my Achilles would cause me any problems," Bess said. "Fortunately, the Achilles did not give me any issues, but the lack of training for two months resulted in extreme pain. But I finished the race!"
Bess said the crowd support was awesome and the course was beautiful. In the end, he had a positive experience despite the setbacks from the Covid delay and injury during training.
STOBER is not only proud to have feature the world's toughest gearbox, but also some of the world's toughest people! Congratulations, John Bess!