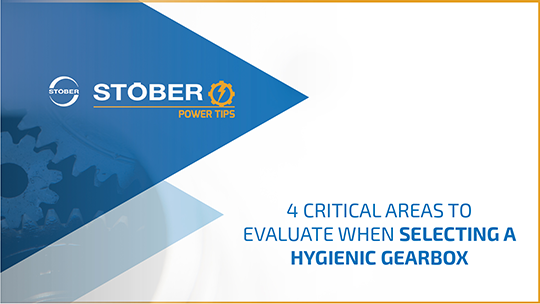 Bacteria and pathogens compromise production in several ways. Food and beverages must be thrown away if they become contaminated, costing thousands of dollars in lost product, and bacteria and pathogens can also cause employees to become sick, limiting resources for production. It's important to remember that these harmful particles can collect on gearboxes if proper hygienic gearboxes aren't being used.
STOBER proudly offers the cleanest gearbox on the market. Our hygienic KSS features an all-stainless steel housing, output, and hardware. It can handle the harshest washdowns and sanitation, allowing for cleaning to a microbiological level.
In a new episode of STOBER's Power Tips, we discuss four critical areas to consider when selecting a hygienic gearbox.
Harborage Points. Square edges can allow bacteria to gather and expand. Couplings, belts, chains, and guards also have many niches and grooves, allowing for bacteria to go undetected. STOBER's KSS features rounded edges on the housing, which means no harborage points for bacteria. Plus, you can direct-drive the gearbox and eliminate unnecessary components.
Certifications. EHEDG, IP, and USDA are all sources for determining how hygienic a gearbox is. STOBER gearobxes are IP69K Certified and are USDA Accepted Equipment.
Design. Harsh cleanings often result in water ingress, compromising seal and bearing life. STOBER gearboxes are designed to prevent premature failure and feature double output seals and long life input seals to prevent oil leaks and water ingress.
Leadtime. Stainless steel production can be time consuming as it is more complicated than standard iron. There are also fewer suppliers capable of doing stainless steel production. It can be a challenge for manufacturers to have stock to meet demand, but STOBER has the ability to build and ship in one day, eliminating lead time issues!
Not only was STOBER the first to offer a stainless steel gearbox, our gearbox is compatible with several stainless steel servo and NEMA motors—pair the two together for a clean system!