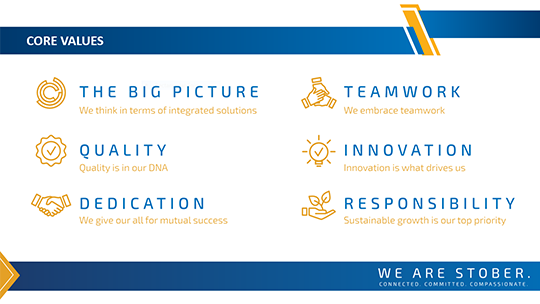 Teamwork doesn't always involve sports or even a particular project but can be found in nearly every gathering—workplaces, churches, schools, and communities. It's defined as the combined action of a group of people and is one of STOBER's six core values. Building a strong team environment is a critical part of STOBER's culture.
"Working as a group motivates everyone to be at the top of their game," said Scott Alles, Manufacturing Manager. "Teamwork creates a sense of community and helps ease the tension while providing an environment of learning and understanding."
Beyond that, Alles said, teamwork allows others to find common ground when communicating in a respectful and safe environment. "You can learn so much by working in diverse groups as you bring multiple viewpoints together."
At STOBER, teamwork is evident through every product produced and the number of people involved. From assembly to shipping and everything before, after, and in between, every gearbox has involved multiple people, teams, and combined efforts along the way.
"It has always amazed me from day one at STOBER how many people can work together and do everything possible to make sure every customer receives the best gearbox in the market."
No matter the circumstances, there is always an opportunity at STOBER to lend a hand to a fellow employee to demonstrate that they're not alone. "This is what makes STOBER special—the teams within the company," said Alles. "You can see teamwork being performed all over, and there is something special about knowing a group of folks will help you while accomplishing goals."
STOBER's commitment to teamwork is evident not only in the products produced, but also in the people who are dedicated to them, and even extends to the customers who use them. STOBER's customer support never ends with the sale—the aftermarket support continues long after the relationship begins, and the teamwork is forever.