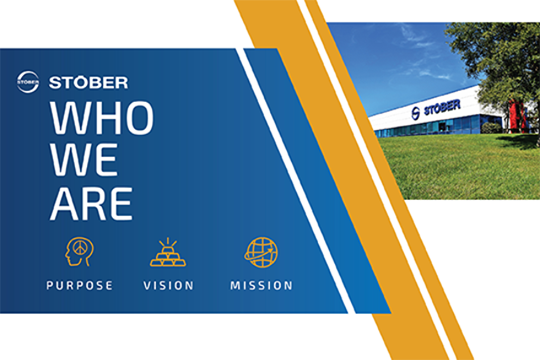 As we celebrate our 30th anniversary at STOBER Drives, Inc. this year, we have taken the time to reflect on where we are and where we want to be. SDI has grown tremendously since its establishment in 1991, and we recognize the need for change as we continue to grow and improve.
Because of this, we are excited to announce that we have redefined our corporate vision, mission, and core value (VMCV) statements to better align with our company's current and future goals. "We chose to redefine our statements because over the years, STOBER USA has developed their own vision, mission, and core values. We're [roughly] 150 people in Maysville and 700 [people] worldwide, and we're serving a global community, so it's really important that we align with our headquarters and with the rest of the world as the STOBER company," Peter Feil, SDI's VP/General Manager, explains.
Feil refers to our VMCV as the "personality" of our company. "The new VMCV goes into more detail and talks more about the product, what we do, how we work as a team, and how we serve our customers on a more global basis."
Our redefined statements are as follows:
Our Vision
The gold standard for perfect motion
Our Mission
STOBER puts things in motion integrally and precisely, as a team and with personality, responsibly and in a forward-looking manner.
Our Core Values
The Big Picture – We think in terms of integrated solutions.
Quality – Quality is in our DNA.
Dedication – We give our all for mutual success.
Teamwork – We embrace teamwork.
Innovation – Innovation is what drives us.
Responsibility – Sustainable growth is our top priority.
These statements embody the character of STOBER. As Peter Feil said, "If we continue to live by our core values and behave the way that we're defining in our [statements], then we'll maintain who we are, maintain our relevance as a company, and be able to serve all of our stakeholders."
Despite everything that has changed in the last 30 years, one thing is remaining the same: our purpose—to deliver peace of mind in the demanding world of motion. At STOBER, we deliver peace of mind to our customers by providing products that are backed with superior service, outstanding quality, and the STOBER guarantee. Beyond that, we also strive to deliver peace of mind to our employees by creating a culture based on our core values and establishing a family-first workplace.
Click the button below to read more about our redefined vision, mission, and core value statements!