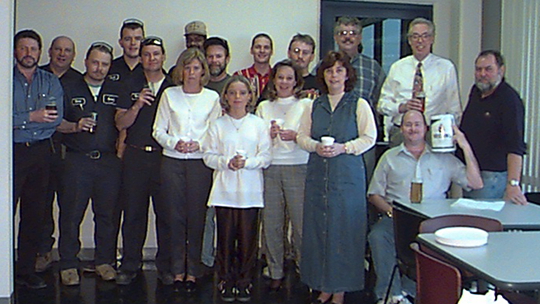 The establishment of a subsidiary with assembly in Maysville, Kentucky in 1991 was a big step for STOBER in the direction of a global company. Since then, STOBER Drives Inc. has developed into a successful system provider and experienced partner with tailor-made drive and automation solutions from a single source. But how did we get here?
In the beginning, the STOBER establishment in the U.S. operated out of the Browning Medical Building in Downtown Maysville, Kentucky. We had very limited space and only a few employees as we got started, but business started flourishing and we quickly expanded.
For the first 2 years of STOBER being in the United States market, we sold only traction drives. MGS gearboxes came later. The textile market was a great market for our mechanical variable speed drives (ComTrac).
There was a large focus on creating the STOBER culture. Our culture has always been of high importance to us, even in the initial stages of our business. We emphasized a family-first environment. We educated and empowered our employees and encouraged teamwork to ensure no customer was overlooked. There was a high sense of accountability at STOBER. All of these things remain true to our culture today.
Our dedicated people and our strong foundation built on culture allowed us to become successful as a key player in the U.S. market. "Many German companies have trouble in the United States market. We are a perfect example of how to do things right in the United States," Patrick Stöber, President of STOBER, stated.
With the increasing demand and growing importance of drive technology in many markets, we have continued to invest in new production capacities, modernization of buildings and production facilities, as well as in the worldwide network of STOBER.