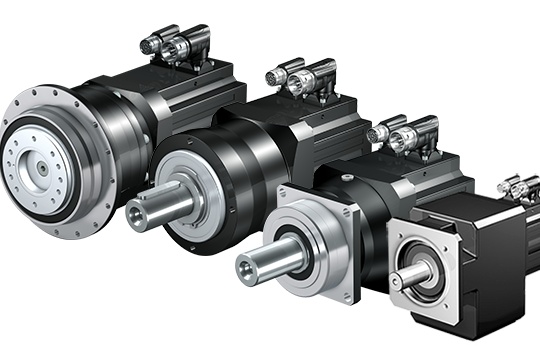 Geared motors can improve machine design while saving money. By eliminating extra components, such as the motor coupling, the solution is lighter and more compact. Plus, wear components are reduced, which equals less maintenance. There are many other benefits to a geared motor—read more about the top five below:
Improved Performance

Servo geared motors are more dynamic, allowing you to take advantage of improved performance. STOBER servo geared motors offer higher torque density, have less inertia, and generate less heat by eliminating wear components from the motor adapter, gaining stiffness and precision on the application.

Adaptability
Servo geared motors come in a variety of styles – inline, right angle, shafted, hollow bore, and more. Having such a broad range means STOBER offers products that fit every application. STOBER's geared motors were created to be adaptable to meet the needs of any customer.
3. Compact size
STOBER servo geared motors are more compact, allowing for a shorter envelope for your solution. Most gearboxes paired to a different motor manufacturer require a motor adapter and coupling, which can add up to 45 percent more length over a STOBER geared motor solution. Even a few millimeters can make a huge difference when it comes to the overall machine size.
4. Cooler Temperature
STOBER gearboxes already run at a relatively cool temperature, and combining them with a servo motor allows for even greater reduction in temperature. By eliminating the motor adapter, an input seal can also be removed, which creates less friction and, ultimately, lower temperatures. This results in increased performance and better life expectancy in the application.
5. Simplification
Simplify the entire process by using a STOBER servo geared motor. STOBER offers excellent service, products, and delivery. Using STOBER solutions allows you to take advantage of the power of one: one part number, one vendor, and one mechanical assembly for different third-party controllers. Stainless options and coatings for washdown needs can be applied without changing the fit of the geared motor, and there's no more concern about correctly assembling the motor to your gearbox – it's already done for you!
STOBER's servo geared motors offer all of these advantages and more. With the largest breadth of product and the most compact geared motors on the market, STOBER can optimize every machine's performance to the Gold Standard.
Want to learn more? Download our free guide today.