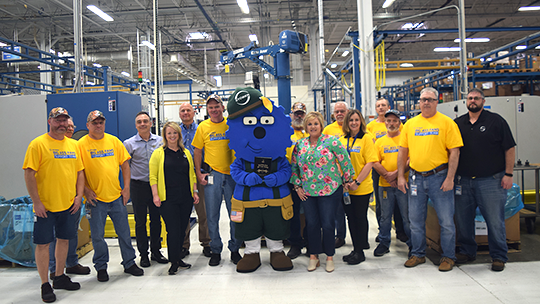 Representatives from Big Ass Fans recently visited STOBER in Maysville to present the inaugural Supplier of the Year Award. STOBER was recognized for outstanding performance and commitment to Big Ass Fans, its community, and employees.
"2021 was a tough year for supply chain," said Tara Ferrell, Director of Supply Chain, Big Ass Fans. "But STOBER stood the test and delivered 100 percent on-time delivery to Big Ass Fans."
BAF, headquartered in Lexington, Ky., achieved its biggest sales year ever in 2021 and STOBER is proud to have played a part of it. BAF representatives and STOBER employees celebrated the partnership with lunch, plant tour, and giveaways from BAF.
STOBER has been doing business with BAF for nearly 20 years and currently supplies BAF with a custom F-Series gearbox for their industrial fans. The award was voted on by all cross-functional teams across BAF, and STOBER was chosen as number one in every area.
STOBER is proud to be recognized for fulfilling our purpose, to deliver peace of mind in the demanding world of motion.
Learn more at the link below about STOBER's corporate statements, mission, and values.