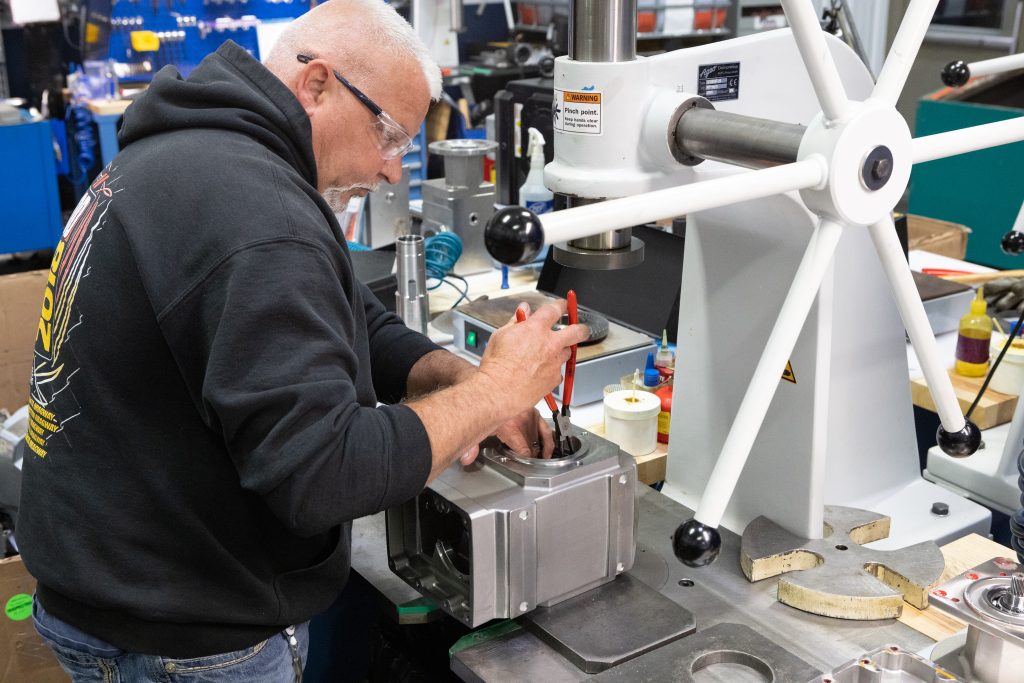 Even with the most reliable gear reducer, the unexpected can happen… your machine might not perform exactly as you want it to. Whether there's too much downtime or you're not hitting your production goals, STOBER can help you figure out the root cause with fast, personal service without eating up your time or resources.
STOBER's service department offers several levels of expert analysis to inspect products after they have been installed in the field. With a standard five-day turnaround for the basic evaluation, our team is committed to having you back up and running as quickly as possible. STOBER's service levels include:
Level 1: Basic Inspection: STOBER team evaluates the unit for failure mode as described by the user and provides an explanation for failure.
Level 2: Mid-level Evaluation: Service department samples oil and inspects bearings, seals, and gearing and performs a root cause analysis. The customer receives a failure report with high resolution photos.
Level 3: High-level Evaluation: An oil sample is saved and bearing and seal inspections are performed by the original manufacturer. STOBER performs a gearing inspection and a root cause analysis.
Level 4: International Evaluation: The unit is shipped to STOBER headquarters in Germany for additional evaluation.
Evaluation and rebuilding of a gear reducer can easily save time and money instead of purchasing a new unit. Third party repair shops are known for using sub-par parts, causing the unity to fail again quickly. When you use STOBER for your repairs, you can rest assured that only the highest quality parts will be used.
Plus, STOBER's help isn't limited to repairs–STOBER can also give advice on how to make a product last longer including a machine design evaluation, basic operation analysis, sizing the application of the system, and ensuring all of the components are matched to the specific requirements.
By providing these services, our goal is to help you keep gearboxes running as long as possible. Be sure to contact STOBER for help in increasing your uptime and productivity.
Want to learn more? Check out our free download below!