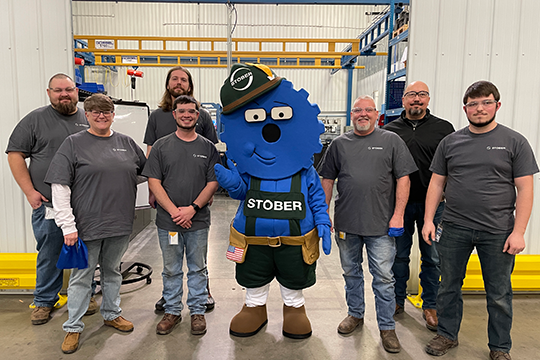 STOBER's high-quality products don't often need repaired, but our Service team often sees 20+-year-old products come back for a refresh. Our domestic gearbox and motor repair center saves customers time and money with quick inspection and repair from our Maysville, Ky. location.
With their newly-remodeled shop and dedicated individual workspaces, the sky is the limit for the ways they can help customers alleviate any downtime. Our Service department is available 24/7 and can help with troubleshooting, diagnostics, repair, and more.
STOBER's service team works on both motors and gearboxes and can identify the failure type and help reach a solution that will last longer. We offer four levels of inspection, testing of motors on different third-party controllers using a state-of-the-art tester, full component troubleshooting, and hi-pot and continuity check on windings.
In addition, STOBER's KSS stainless steel gear reducer can be renewed once it reaches the end of its life. The KSS renewal program includes a rebuild and return with a new two-year warranty, avoiding the purchase of a new reducer, and doesn't require a storeroom transaction for replacement. Plus, STOBER's motor adapter can be replaced through the motor adapter replacement program, avoiding unnecessary costs of other gearbox manufacturers who don't offer the same input adapter flexibility.
Next time you experience a gearbox issue, don't forget STOBER and our expanded service area. With over 80 years gearing and 30 years motor and electronics experience, we have the expertise to solve your most difficult problems. Contact us today to talk more about your custom solution needs.