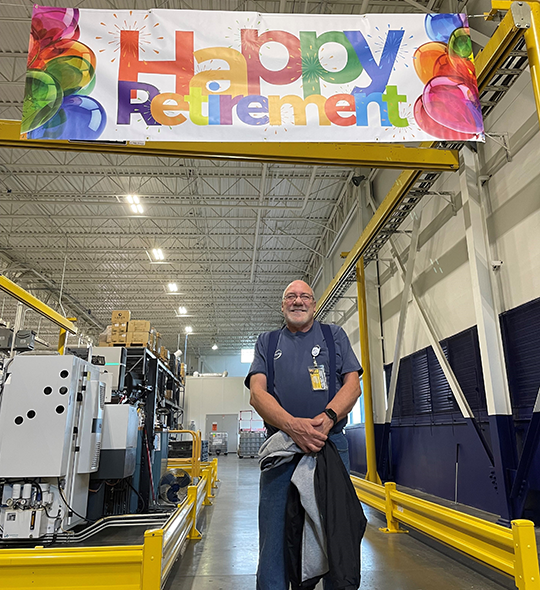 After 14 years at STOBER, Ronnie Cooper is looking forward to his upcoming retirement.
Ronnie began working at STOBER in 2007 as a parts picker, but his start was nearly 13 years in-the-making. Ronnie did some personal work for Jim Schumacher, STOBER's first General Manager, in 1994. After talking with Ronnie and admiring his work ethic, Jim offered Ronnie a job back then. Ronnie appreciated the offer, but he was not looking to change careers at that time.
Now, looking back at his fulfilling career at STOBER, Ronnie says he regrets not taking Jim up on that initial offer. In previous jobs, Ronnie said he felt like he was just a number, but during his time at STOBER, he has enjoyed working with his teammates and values the friendships he has made.
After working in picking, Ronnie worked in inspection and ran one of the old Makino machines before moving to his long-term home on the saw. Currently, Ronnie cuts the raw material before it enters the machines, in addition to several other responsibilities. No matter the role, Ronnie's favorite part about working at STOBER continues to be the people and the family-oriented atmosphere.
Upon his retirement, Ronnie plans to take the month of January off and rest. After that, he will get started on his wife's honey-do list, which he described as a notebook full. He also plans to do some woodworking, spend time with his 14 grandchildren and 6 great-grandchildren, and ride his bicycle and moped. His advice to new hires is, "You be good to STOBER and they'll be good to you."
We will all miss Ronnie's friendly, positive nature and happy, uplifting smile. His final shift at STOBER will be December 17th. Congratulations, Ronnie!