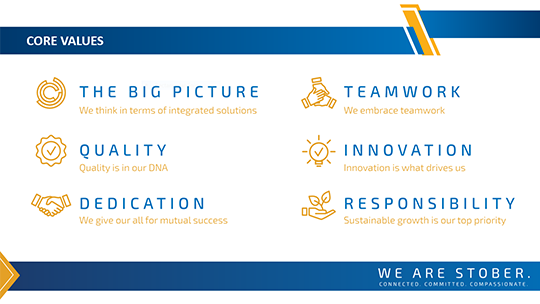 While it can be easy to get comfortable with maintaining the status quo, there's value in getting comfortable with being uncomfortable. Whether personally or professionally, it's important to take risks and strive for growth & development. The first of STOBER's six core values is The Big Picture – thinking in terms of integrated solutions.
"It's easy to be so busy doing our jobs that we don't take time to analyze ourselves, our teams, or the company to identify areas for growth," said Amy McCord, Marketing Manager. "Valuing 'The Big Picture' means dedicating time to continuous improvement. It requires everyone to see how what they are doing could affect other people and look for ways to streamline processes and procedures."
STOBER always supports new ideas & solutions, invests in training employees, and developing products, processes, and subsidiaries around the world. Integrated solutions are part of STOBER's value proposition—products are paired to offer seamless solutions. Combining exceptional products with support from outstanding people makes STOBER the best option on the market.
"Thinking in terms of integrated solutions is breaking down silos," McCord said. "Every team has to work together to provide the best solution. Every part is crucial."
The company and various departments have been completing strategic planning for several years, allowing participants to step back from day-to-day activities of the business and find ways to improve. At STOBER, things are always done in a forward-looking manner, focusing the culture on continuous improvement, and by innovating products and processes to continue to be the best mechatronic solutions provider.
McCord emphasized that The Big Picture includes driving improvement and growth of self and others. "What we don't change, we choose," she said. "Looking at the big picture helps us discover areas for improvement and challenges us to elevate our performance."
At STOBER, understanding customers' needs and providing durable solutions is a major part of The Big Picture and will continue to elevate STOBER's industry success.