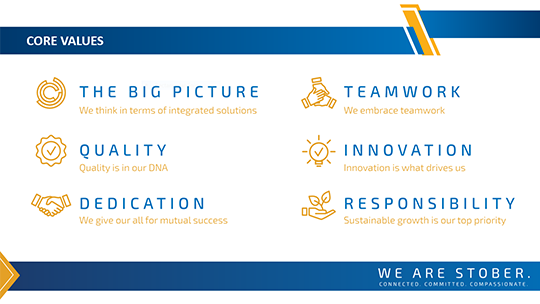 Quality can mean different things to different people and in different circumstances. The quality of a new vehicle you're shopping for is probably more important than the quality of your morning cup of coffee—or is it? The second of STOBER's six core values is Quality – it's in our DNA.
Some may think of quality in terms of a job done right the first time, every time, using the best materials and methods in the industry, tight tolerances, or double-checking products before they leave the door, but Chris Breeze, STOBER Production Manager, thinks of quality as a bigger picture.
"Sure, it is all the above, but what makes quality of our products stand out are the team members that understand that the products they build today will last for many years, as evidenced by the 20-year-old unit that recently came back for evaluation!" Breeze said.
At STOBER, quality goes beyond just a department bearing the name. It begins with the product design, the sourcing of the suppliers and material used, the machines designed to hold the tolerances necessary to supply customers with the best products on the market. It also includes empowering and training team members to ensure they have the best tools and knowledge to set forth and perform at the highest potential
"STOBER team members live the quality statement every day without even thinking about it," Breeze said. "That's what makes it part of our DNA."
Breeze emphasized that STOBER team members are encouraged to take ownership of their processes and the product they are working on—and to ask questions if they don't think things are correct. They also understand that quality includes the promise to deliver a product that keeps every customer's systems moving.
"We do everything to the best of our ability because we know when the STOBER logo is placed on the product, it is a symbol of our pledge to our customers that they are buying the best produced by the best!" Breeze concluded.
At STOBER, excellence is a major indicator of Quality, which continues to separate STOBER from competitors.