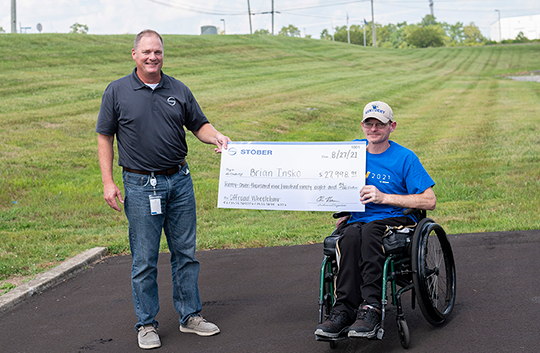 A few months ago, we released a story about one of our employees, Brian Insko, who was born with Congenital Insensitivity to Pain with Anhidrosis (CIPA) and is wheelchair bound. Despite the challenges he has faced, he has remained positive and shows up to work every single day. Because of his hard work, we wanted to help Brian raise money for a motorized wheelchair, which would allow him to go off paved surfaces, without someone having to push him. "Having this would let me go where I want to go and do what I want to do. Having that freedom would just mean so much," Brian stated.
After we published the article about Brian, it was clear that his story inspired many. The donations started pouring in from our employees, customers, community members, and partners all around the country. A local woman named Patty Burden generously donated a wheelchair, which works well for Brian while on paved surfaces. On top of this, STOBER sponsored several fundraising events, including a golf scramble, auction, and gun raffle, with 100% of proceeds going to Brian's cause.
In total, we raised $28,000 for Brian! This will cover the entire cost of his off-road wheelchair, with some money left over that will likely go towards a trailer for hauling the wheelchair.
Brian is extremely grateful for everyone who has shown him support. "I'm not real good with words but this means so much. Thank you to everyone who donated. I greatly appreciate everything," he said. The STOBER family extends a huge thank you to all those who donated, helped organize fundraisers, and sent kind words. Because of you, Brian was able to surpass his goal of $20,000 and will be able to spend more time doing what he loves—fishing, hunting, and exploring the great outdoors with his niece and nephew.