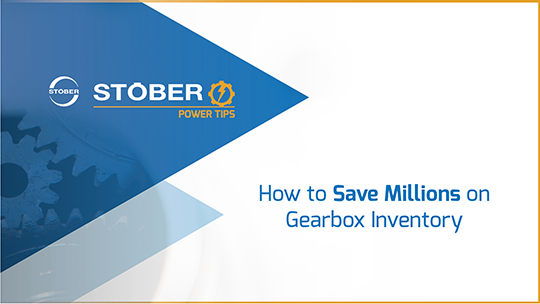 When a plant runs 24 hours a day, 7 days a week, a storeroom becomes an insurance policy, protecting against the extremely costly issue of downtime. Production lines being down can cost a company thousands of dollars a minute in lost product, so it's important for a maintenance team to be able to quickly access replacement components when they fail. But having a storeroom full of bearings, gearboxes, and other components ties up a huge chunk of financial resources. Plus, failures are unpredictable, which causes many stocked components to sit on the shelf for years, meaning their warranties expire or they never get used.
The good news is that storerooms can be optimized and simplified, freeing up idle money sitting on the shelves. Three ways to make gear reducer inventory more efficient include:
Work with suppliers who offer short delivery times, minimizing the need to overstock reducers. STOBER assembles units in our Maysville, Kentucky facility, meaning they can be shipped in one day. No need to wait for customs or international shipping headaches!
Purchase units with flexible options. For example, look for reducers that can be mounted in multiple orientations or that have the ability to accommodate several machine shaft sizes. Flexibility allows you to minimize the number of gear reducers you need since several can be used in multiple line locations. At STOBER, we're proud to offer flexibility, options, and superior performance all in one convenient package.
Standardize reducers needed for your lines. Many companies have a variety of ratios on the production floor, meaning numerous reducers to stock. Performing ratio and line speed assessments will reveal that leveraging your Variable Frequency Drive's speed range will minimize the number of ratios needed on your reducers.
Since 1991, STOBER has been saving our customers thousands of dollars in inventory, directly contributing to their bottom line. Our engineering team would love the opportunity to evaluate your lines, simplify your reducer needs, and optimize your storeroom.
Want to know more? Download the guide!